Mexico Real Estate Coalition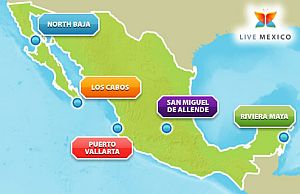 Puerto Vallarta, Mexico
 - For the first time, a nationwide array of companies are joining forces to promote living and real estate investment in Mexico. Individuals from some of the most respected companies including Grupo Questro, Capella Pedregal, Punta Mita, Querencia, RCI International, BBVA/Compass Group and Stewart Title Latin America have compiled a stellar group of talent to combat the negative media, security concerns and perception challenges that have faced Mexico the past year.
"The overarching goal of the Mexico Real Estate Coalition is to educate and excite Americans about the many benefits of living, retiring and investing in Mexico," said Juan Diaz Rivera, Chairman of the MREC. "Living in Mexico is a compelling lifestyle option – far lower cost of living than in the US and all of the natural attributes that the retiree/second home purchaser seeks. Mexico has certainly suffered some challenges over the past year and we plan to address these head on and put Mexico back in the spotlight. A lot of what the media has led people to believe is just not accurate."
The group will launch efforts throughout 2011 with the unveiling of LiveMexico.org. This highly interactive site will serve as the primary promotion and educational vehicle for the MREC. Visitors to the site will be able to read hundreds of testimonials from Americans about the benefits of living in Mexico, gain information on Mexico real estate and also review key facts and figures affecting the country. As part of the initial efforts, MREC has also recently launched an aggressive advertising and public relations campaign to educate and help shift the current perception facing the country in the mainstream media.
MREC
 is not a short-term effort to respond to current negative press, rather an initiative that is designed to promote Mexico as a retirement option over the long term and to ensure it competes with key US markets for the baby-boomers over the next 10-15 years. Coalition members come from all parts of Mexico, including Los Cabos, Cancun, Playa del Carmen, Rosarito, Ensenada, Mazatlan, Puerto Vallarta, Mexico City and many other destinations. The group is not just limited to developers as some of the top banks, title companies and law firms have also joined. Non real estate developers include Stewart Title Latin America, BBVA/Compass Group, Sotheby's Mexico, CREEL Law Firm and many others.
"Mexico presents an incredible lifestyle for the American retiree and real estate investor. We believe it to be the best in the region not only versus other Latin American and Caribbean markets, but also when compared to retirement destinations in the United States," said Christopher Hill, Mexico CEO of Stewart Title Latin America and a founding member of the MREC. "However, we are going to have to put some work into correcting some of the unfair damage done to the image of Mexico recently in the US media. Our greatest asset is the thousands of Americans and Canadians who currently live in Mexico and love it. In the end, the reality of Mexico as a great place to live – full or part time – will shine through."
Patrick Osio Jr, is a principal founder of TransBorder Communications (TBC), specializing in facilitating communications,marketing, video documentaries, and events to increase binational business and economic development across borders.